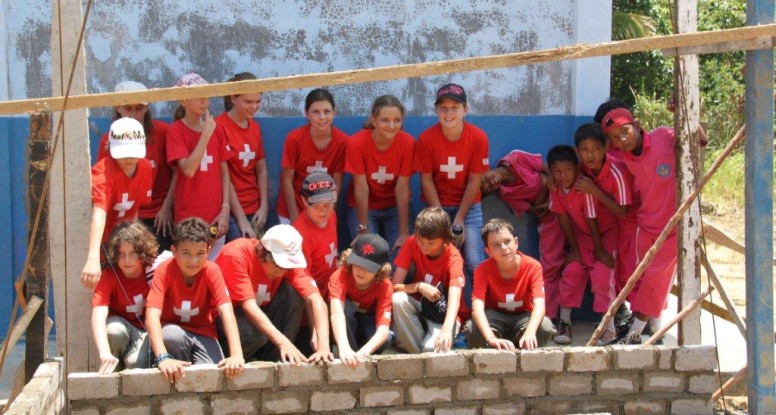 Singapore's Swiss School Students Lend Their Hands to Build a Local School's Canteen
Setting aside the fun activities of being at the Telunas Center (at Telunas Beach) and working through their week-long writer's workshop (formerly known as camp), the students of Singapore's Swiss School took the time to perform a community development project.  Their project was to help a local school on Pauh Island to build a canteen.
The Swiss School's boys and girls were overwhelmed by the local students' warm welcome.  The boys and girls were given a chance to see the life of the people on the island as they were led to the school building, which was located on top of a hill.  As they seated themselves in one of the classrooms, they were privileged to see a demonstration of the local cultural arts through music and dance.  And then, it was time to work…
The children had enjoyed themselves so much that time passed by and it was time for lunch.  The school staff had prepared traditional cuisine for the Swiss School boys and girls to enjoy.  By that time, many local students were already anxious to continue having fun with the Swiss School students.  However, it was time to go home and the kids would have to leave the island.  The students and community will always remember the experience and good times that were shared.
Telunas Beach is proud and privileged to have hosted such a fun group of students and we would love to provide such experiences for your students.  You can simply contact us to request further information to bring your school group to the Telunas Center.