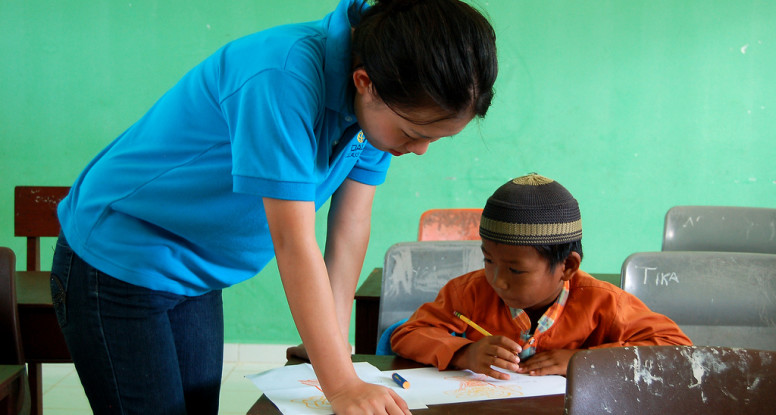 Dalat International School's Senior Sneak Trip
"On September 2, 2010 the senior class of Dalat International School climbed into two boats that would carry us away from our idyllic vacation at Telunas Beach and toward an entirely new and exciting experience. We were headed for Pulau Jang, an island village just fifteen minutes away from the resort. Some of us were nervous about the day ahead, teaching English to schoolchildren using the few Indonesian phrases we carried with us on laminated cards, following new cultural rules we'd learned the day before, and helping to dig an irrigation ditch without drinking any water, out of respect for the people of the village who were observing Ramadan.
When we arrived, we were greeted by lines of waving children in brightly colored school uniforms. We were ushered into the school building and our day began. At the school, we split into teams of four spend the morning teaching English lessons to the students. Our first lessons were challenging. We found that we knew how to ask the children their names, but not what their favorite sport was. We could ask them to repeat English words, but didn't know how to ask one student to come to the front of the classroom. With help from the Telunas staff, we learned as the day progressed, and were able to work with each other and find creative ways to communicate.  Every Dalat student would agree that we learned more than we taught that morning.
In the afternoon, we returned to the village to help dig and lay cement blocks in an irrigation ditch for the village. We were all excited to see how members of our class stepped up, volunteering to do tough jobs like mix the cement and lay mortar between the blocks. We had to be reminded to take breaks and let other students take over. The experience brought us together and cemented strong relationships within our class.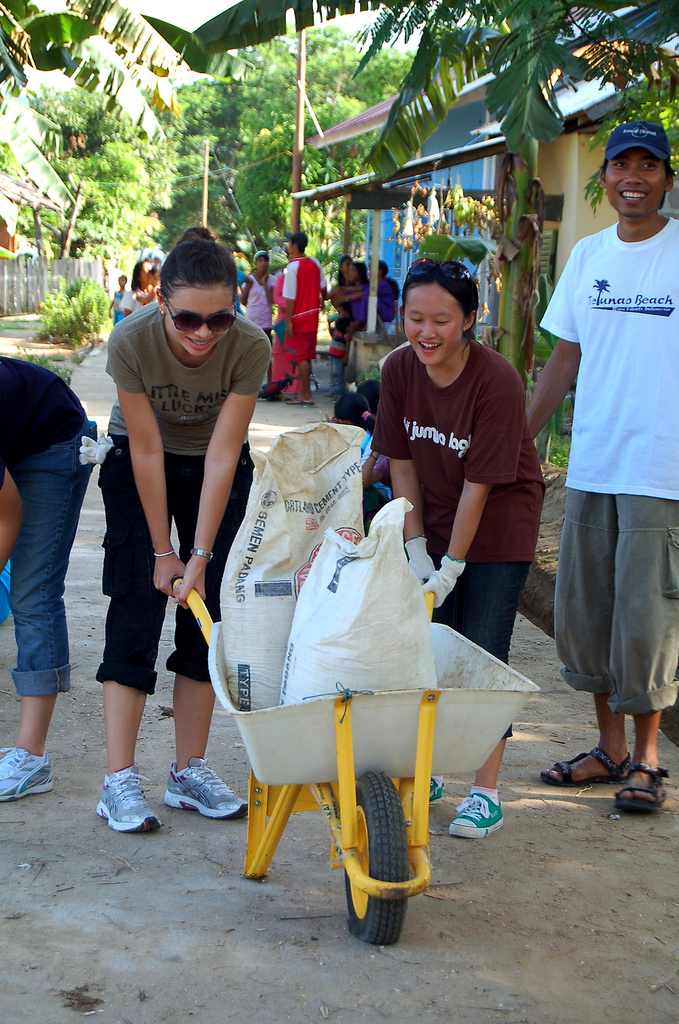 Discussing our visit back at Telunas Beach that night, we realized how big an impact our service day had on us. We had grown together as a class, learned about teamwork and challenges and saw firsthand the differences between the villagers' lives and our own. It struck us how the children found so much happiness in so little, such as a simple game played with Popsicle sticks. Some of us began the day excited, others apprehensive, but when it ended we all knew we it had been an unforgettable experience"
–Laura Van Oss
Grade 12, Dalat International School
More comments from the students:
"The most memorable experience for me was seeing the joy in the kids' faces when we went to do the service project.  What I appreciated most about Telunas Beach was its rustic-ness and the stars!" – Ji-Hyun
"The most memorable experience for me was the service project. Meeting the kids after school was very fun and eye-opening.  What I appreciated most about Telunas Beach was how friendly the staff was and their dedication to their jobs." – Rachel L.